Renovation or extension?
March 4, 2020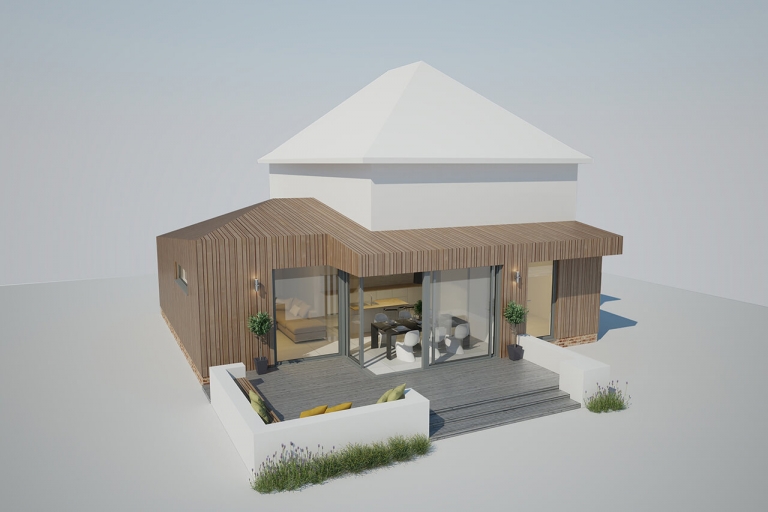 Considering an extension or renovation?
A recent survey* lists the top 100 UK areas where renovations and extensions offer the biggest return on money spent. The survey by Leisure ranks Poole 50th in the top 100 places where homeowners can add the most value to their property per square metre. East Dorset and East Hampshire come in at 74 and 75 respectively and Christchurch features at number 97.
Wherever you live, if you're considering a home renovation or extension, either to improve property value, avoid a move and associated expenses, or simply to increase the enjoyment of living in your home, an initial consultation with an architect is a good starting point for professional, personalised advice. The following are also pointers to consider.
Options for creating extra space
There are a multitude of ways to increase and utilise existing space in your home, from adding a simple front porch and converting a garage, to creating a whole new storey. The main limiting factors, aside from budget will be the type of property you have and any specific considerations in terms of that or your location.
On a basic level, think about what you want to achieve and why? How much extra space do you realistically need and what will it be used for? A utilities room may not be as visually attractive or appealing as a garden room, but could free up valuable kitchen and hallway space and prove more of an asset in reality.
Bear in mind that an extension may not be your only option. In some properties, changing the layout of the existing floor plan makes a significant difference when it comes to making the most of all available space. An architect can advise on any potential and options for this and could save you valuable time and resources in the long run.
Lofty ambitions
A loft conversion, providing your property has the right type of roof structure and pitch (in addition to sufficient head height) is a popular choice, and can add up to 20% to the value of your home.
Converting existing space is generally more cost effective than starting from scratch, although there are a number of different types of loft conversion which vary in complexity and therefore cost. You will also want to weigh up the loss of space on the floor below to allow for the installation of a staircase.
Rooflight
On the most basic level, if you already have enough usable headroom
a rooflight loft conversion is a good option as it requires the least amount of structural work, and rooflights are known to channel more light into a room than standard windows. The rooflights can be fitted flush to the existing roof, so that the dynamics and aesthetics of the exterior of your home isn't altered too extremely. For this reason, planning permission is not normally necessary.
Dormer
A dormer loft conversion is based on the alteration of the roof at the side and rear of the property by adding a structural extension. These are a good option for lofts with limited space as they add additional headroom and useable floor space, straight walls and flat ceilings. The dormer windows provide lots of natural light, and again planning permission is not usually required.
Hip-to-gable
Hip-to-gable loft conversions extend the property on the sloping side of the roof, in detached or semi-detached properties and bungalows. The sloping roof is replaced with a vertical wall at the end which is built up to the same height as the ridge and the space in between is then filled. In the case of detached properties, both ends can be extended to grant even more space if required. Your loft needs to have sufficient height for this type of conversion to work, and again in most cases planning permission is not necessary.
Mansard
Another option is a mansard loft conversion. This involves significantly more construction work than other types of loft conversions but maximises the amount of space gained, whatever your property type. This type of extension is often found at the rear of the property and covers the entire plane of the property's roof. The roof is flat and the windows usually sit within small dormers.
Planning permission is usually required for this type of extension.
Plan ahead
Not every extension or addition to your home will require planning permission. Providing your project fits within certain criteria and conditions, it could fall into the category of Permitted Development. Even when this applies, we would always advise obtaining a Lawful Development Certificate (LDC) as an added safeguard and confirmation before work commences.
Loft conversions in general come under the category of Permitted Development, providing they fall within certain boundaries. Helpful guidance on this can be found at https://ecab.planningportal.co.uk.
If planning permission is applicable, obtaining this generally takes around eight weeks. We will take care of any necessary applications to the relevant Local Authority, follow ups and paperwork. Depending on your property and plans, Listed Building Consent may also be required.
Special consideration
Planning permission can be a more complex process to achieve if your property is situated in certain areas:
Conservation areas
These are defined as an area of special architectural or historic interest.
Areas of Outstanding Natural Beauty (AONB)
Areas of countryside designated for conservation due to having significant landscape value.
Sites/Areas of Special Scientific Interest (SSSI/ASSI)
Areas of land and water considered to best represent natural heritage in terms of plants, animals, geology and other natural features.
Expert input
Throughout the design process, we will advise on any specialist input required from other experts such as heritage consultants and structural engineers and work closely alongside these.
With any project requiring planning permission, having the right design and advice from the outset can go a long way in helping when it comes to gaining this. At INKSPACE we are experienced in guiding clients through the complexities of the planning process. We also have a strong track record in successful planning applications including projects related to Listed Buildings and Conservation Areas.
Practical pointers
It can be a logistical challenge to live in a house while major work is ongoing. That said, it can be done and the end result makes up for the inconvenience. If moving temporarily is an option (this may be essential if kitchens and bathrooms are being ripped out) it could be worth the upheaval. This can also sometimes enable builders to move more quickly, avoiding additional labour costs.
Other practical considerations will include access and parking while work is carried out and the disposal of rubble and waste; again, we can advise and ensure a suitable site management plan is agreed before the work starts and is adhered to when it gets underway. Finally, it is always a good idea to let your neighbours know about your building project in advance, with an idea of timescale to keep them onside.
August 23, 2023
June 21, 2023
November 1, 2021